Discreet background music, intelligible announcements, easy handling. Sounds good.
Shopping malls generally have a central broadcasting system for voice guidance in response to emergencies, such as serve weather and fire, etc.
In addition to ensuring safety, TOA's solutions can also add value to shopping malls on ordinary days. The functions include:
Background music (BGM): music distribution over multiple zones to highlight the characteristics and style of the store. such as pop music is matched with fashion stores; classical music is matched with tasteful furniture stores, etc.

Time-based notifications (e.g. broadcast promotion announcements on a regular basis to motivate customers' shopping desire.)
The atmosphere created by music can significantly increase browsing time and the frequency of customer visits. Furthermore, studies have shown that music has a very positive effect on buying behaviour. Whatever audience you are targeting, the transmission quality and individual choice of background music is key to the success of any restaurant or shop design.
SOLUTIONS
MAIN SYSTEM
IP-1000 is a true digital matrix system that can be extended to any locations with the network access. Each input and output device can be independently connected to the network. It can fully meet the needs of the project scales and control the project costs more effectively.

Users can easily control the system through the system management software. Any computer with the software installed can becomes the system's server, as well as a  workstation, increasing the point of control.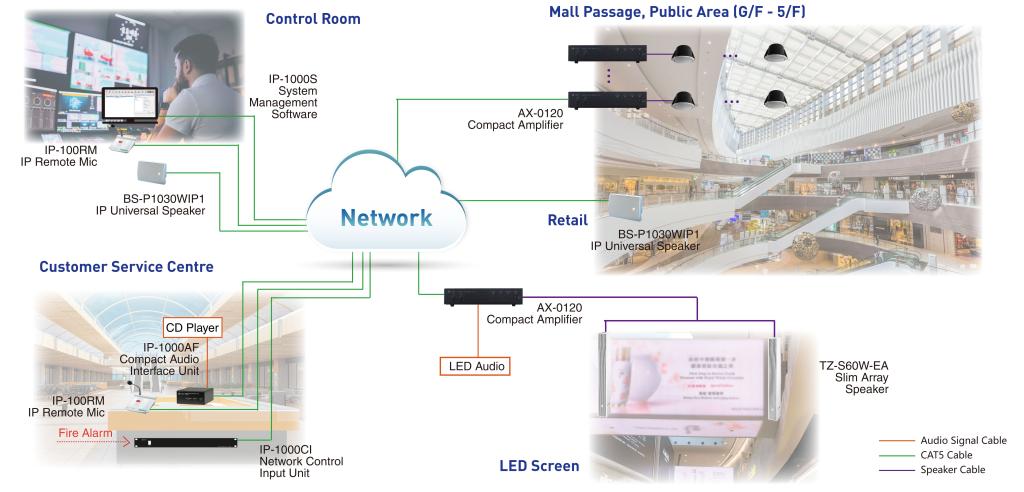 MAIN SYSTEM
The reliable VX-3000 Series is a EN 54-16 compliant voice alarm system that combines all important functions in one unit frame. In addition to ensuring safety with emergency voice guidance, it also creates a relaxing atmosphere with music broadcasting.

VX-3000 Series is a IP network based system, and the equipment can be installed in different location, which not only saves space and wires, but also flexibly carries out system renovation and upgrades, reducing the impact of project upgrades on the daily operation of the shopping malls.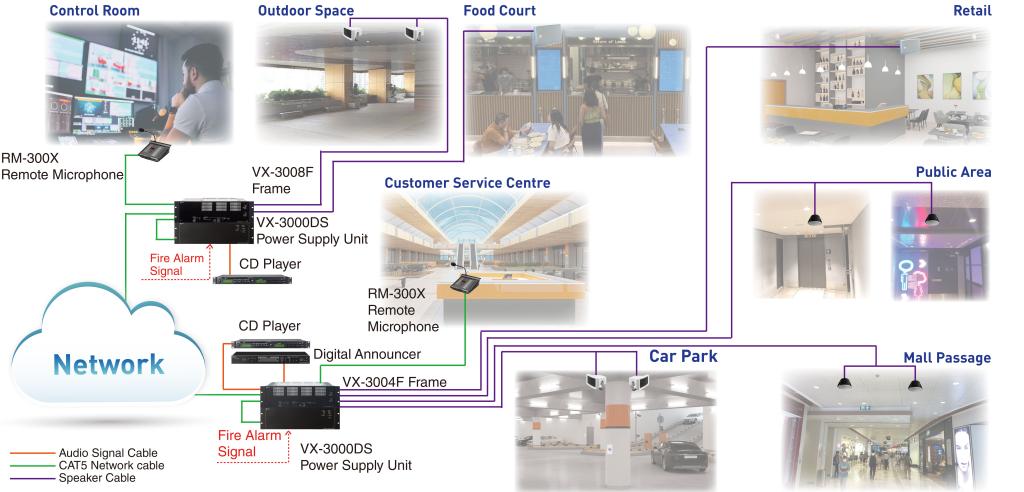 PORTABLE AMPLIFIER
In addition to main central system, TOA also has small, lightweight portable wireless amplifiers that are readily available for promotion and special event. Wireless microphone and music broadcast via USB on wireless meeting amplifier meet the needs of impromptu event.  It is also able to play messages repeatedly for crowd control measures or publicity in daily.

PORTABLE AMPLIFIER
With digital stereo mixer M-864D and power amplifier DA-250F, the system can support for more complex activities requirements, with more audio sources, better sound quality and can be to broadcast in a wider range. When in use, simply connect the portable equipment rack cabinet to the installed speakers, to easily provide good sound delivery for events.

VARIOUS SPEAKERS FOR DIFFERENT APPLICATION
It is suitable for the application of real and fake ceilings in different shopping malls. TOA's speakers are mainly available in black or white color making the speakers easier to blend into the interior design. Various sizes and power options for different application requirement.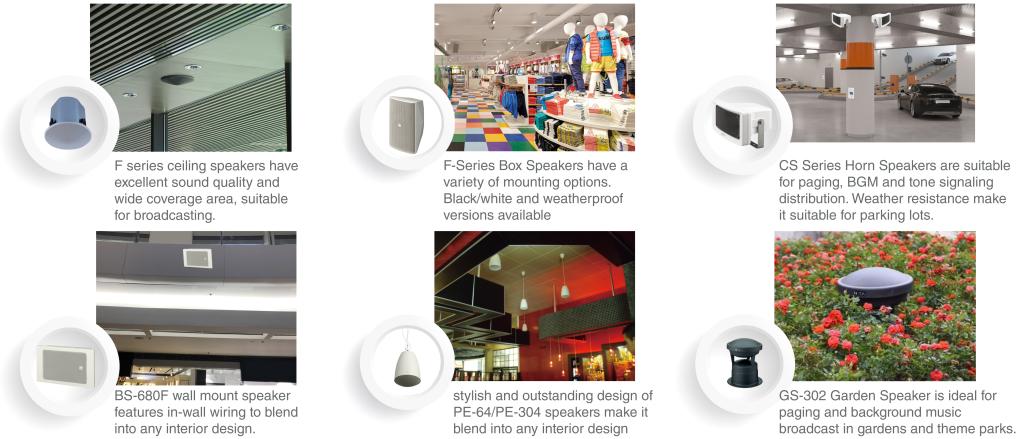 For further information, please feel free to contact us.