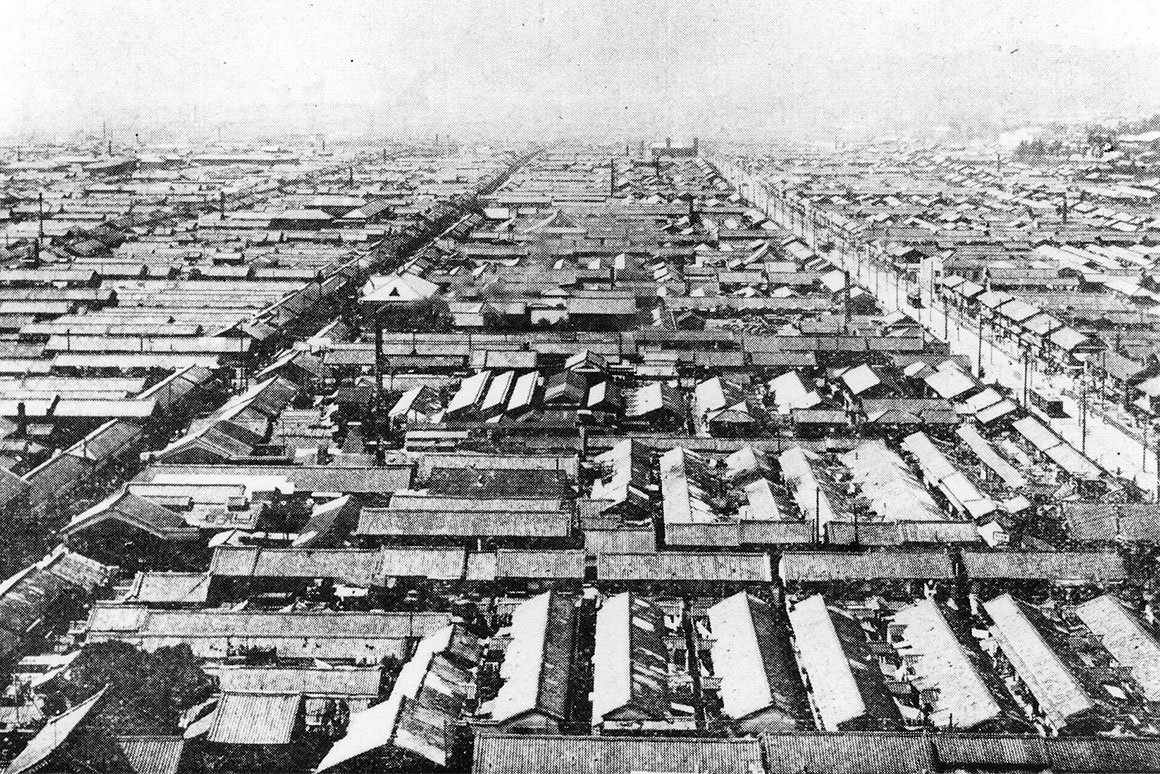 1934 | Start of TOA History
TOA's founder, Mr. Tsunetaro Nakatani, was born on August 10, 1890 in the city of Takasago, approximately 30km west of Kobe, and was raised as the only son of a family of one boy and 6 girls. Although he had planned to be a photographer or painter after completing his military service, the death of his brother-in-law, who had been operating a manufacturing business in Senba, Osaka, forced him to defer his dreams, and he worked with his elder sister in the place of his brother-in-law until she graduated from university and took over her late husband's business. Around the time that his sister took over her husband's business, Tsunetaro happened to meet a young engineer during his travels who sparked his interest in making microphones. Soon after, he determined that this would be type of work he would like to do next. After moving to Kobe, he founded the TOA Electric Manufacturing Co., Ltd., and immediately started making microphones. The seeds of today's TOA opened here, in September of 1934.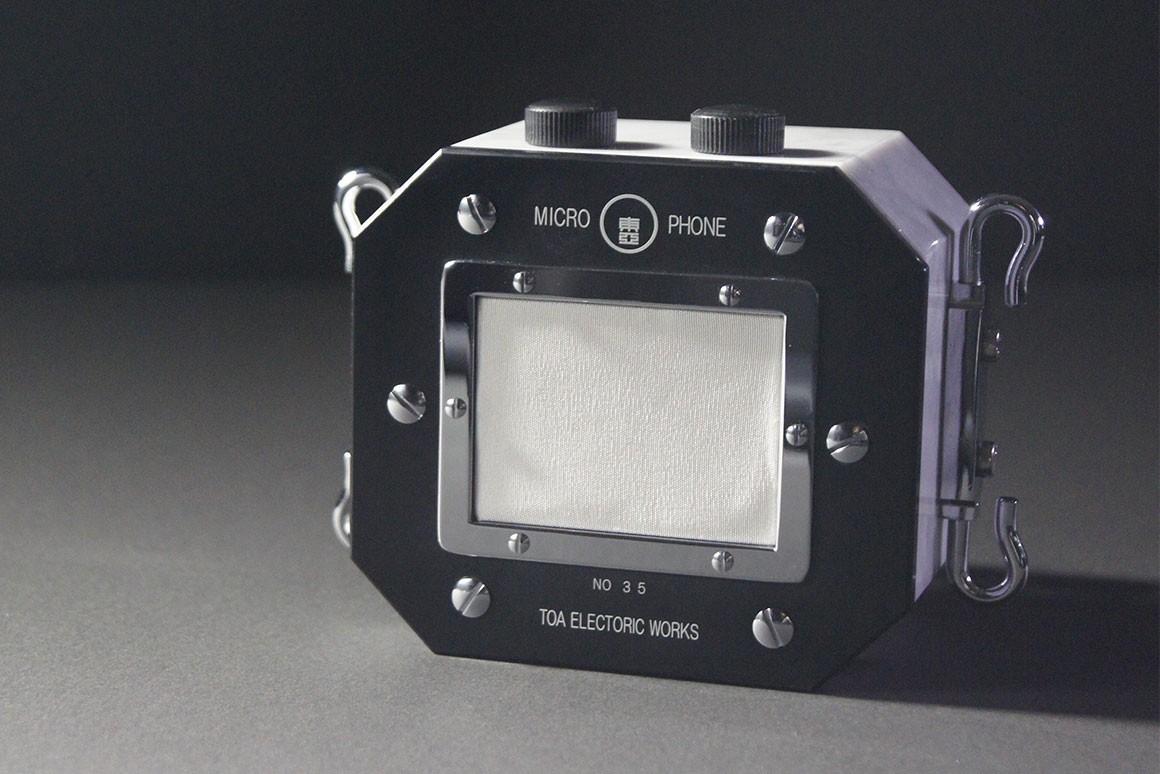 1935 | Carbon Microphone Made from Sugar
Burning sugar in a copper pot results first in liquefied sugar, which then increases in viscosity and turns into a blackened cake. Place this in a crucible pre-heated to 500°C, cut off the oxygen supply, continue heating to 1,100°C, then cool this down rapidly and the result is carbon in the form of coke. TOA used this process and then ground the resulting carbon into evenly sized granules for use in its carbon microphones. It's said that every kilogram of sugar resulted in only a few grams of this usable carbon.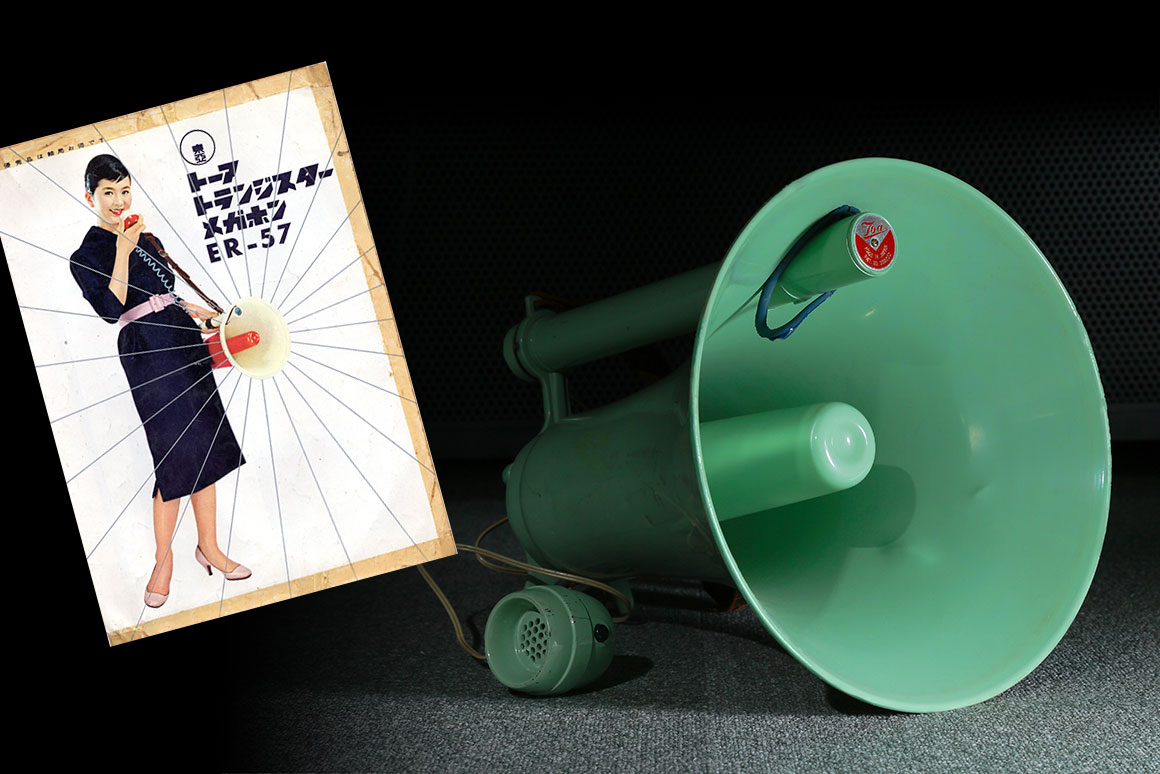 1954 | World's First Electric Megaphone
In 1954 TOA developed the world's first electric megaphone. Offering clear sound over long distances, the convenient portable design allowed the user to hold the microphone in one hand while hanging the speaker portion over the shoulder, and this earned it favorable reviews among political candidates campaigning in the streets. In 1957, TOA created Japan's first transistor megaphone, and followed this in 1959 with the successful commercialization of a transistorized car amplifier. These products, which took advantage of the advanced technology of the day, surprised the world with their light weight, compact design, low energy consumption, and high performance.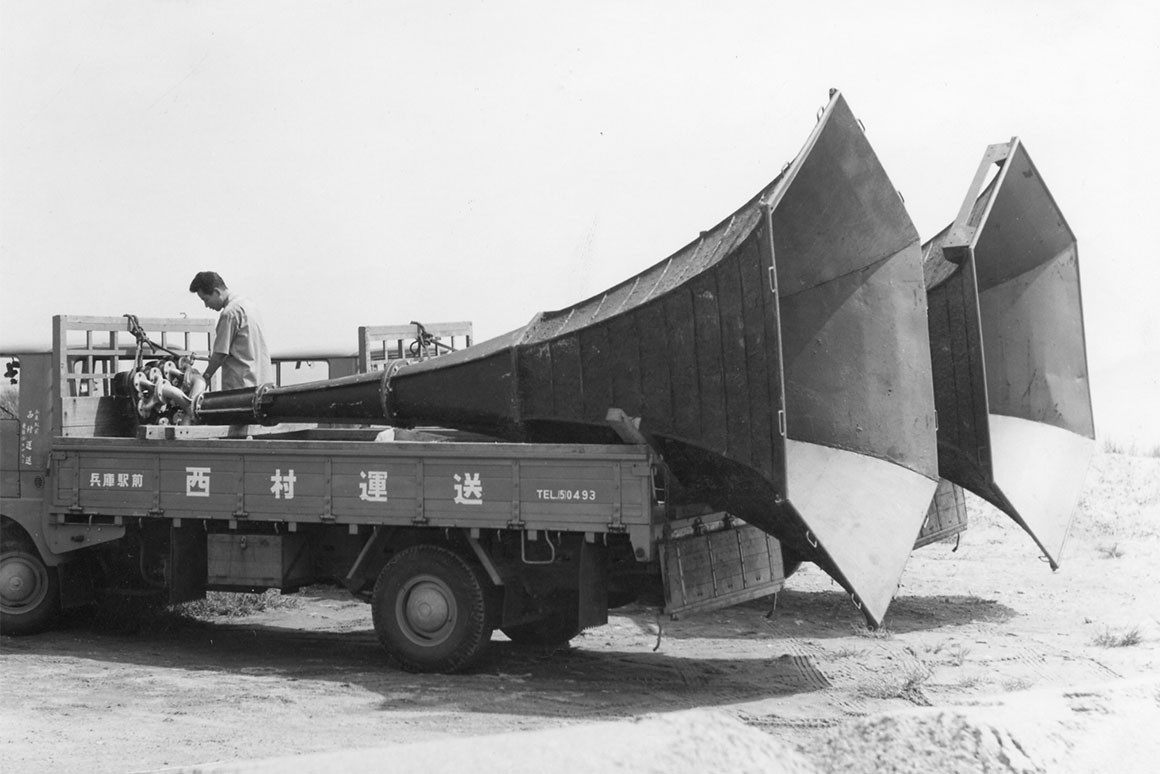 1962 | Ultra Large PA System
At the request of an overseas client, in 1961 TOA began development of an ultra-large PA system that featured an unprecedented target transmission distance of 12km. A total of 9 tests, including 2 preliminary tests, were conducted at several locations, among these Kyoto's Mt. Hiei and Awaji Island in Japan's Seto Inland Sea. This experience later played a part in the development and introduction of TOA's popular horn array speakers.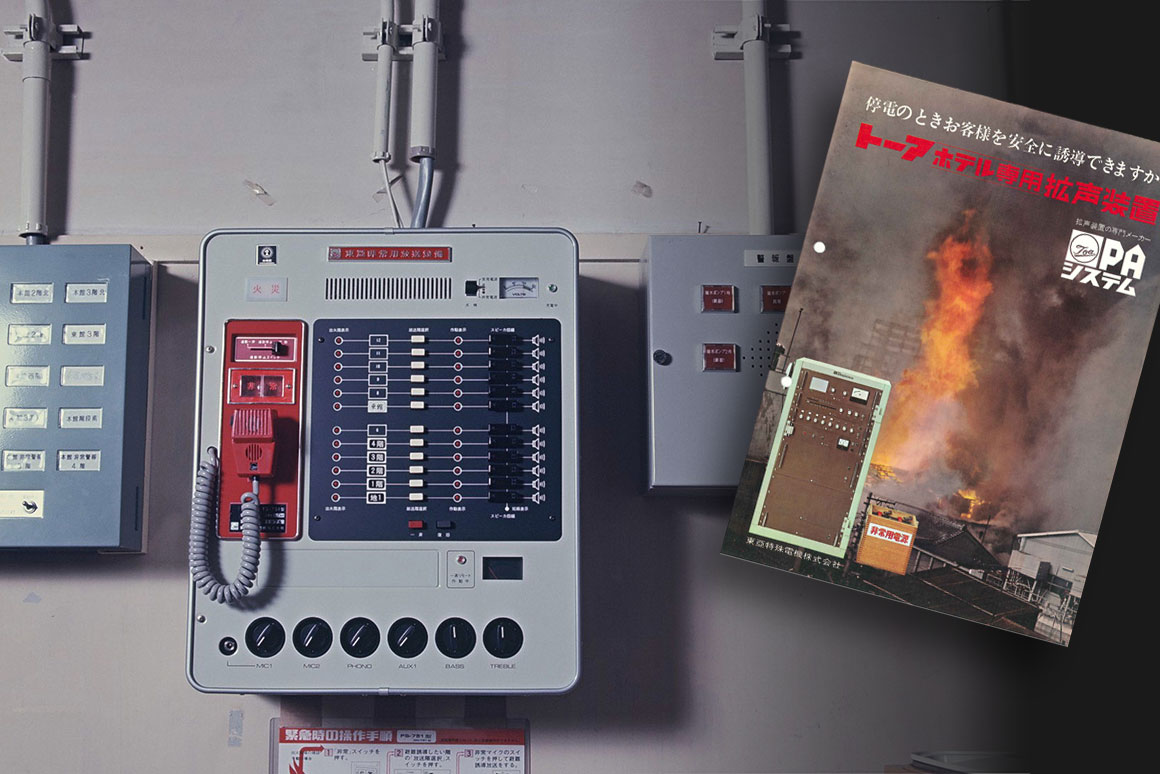 1969 | Emergency Broadcast Systems
In response to a catastrophic 1968 fire in the Arima Onsen (hot spring) resort, TOA launched a study into ways to minimize casualties with a broadcast system. The following year, TOA developed Japan's first emergency broadcast system, which later led to the revision of Japan's Fire Services Act. Soon, TOA also developed the industry's first space-saving wall-mounted system, and these advances helped TOA's systems grow to become the standard of emergency broadcast systems. Besides emergency broadcast systems, TOA has also developed a rapid response earthquake information system and multi-language broadcast services in addition to voice evacuation systems for use in Europe. To this day, these systems continue to ensure the increased safety of people in countries throughout the world.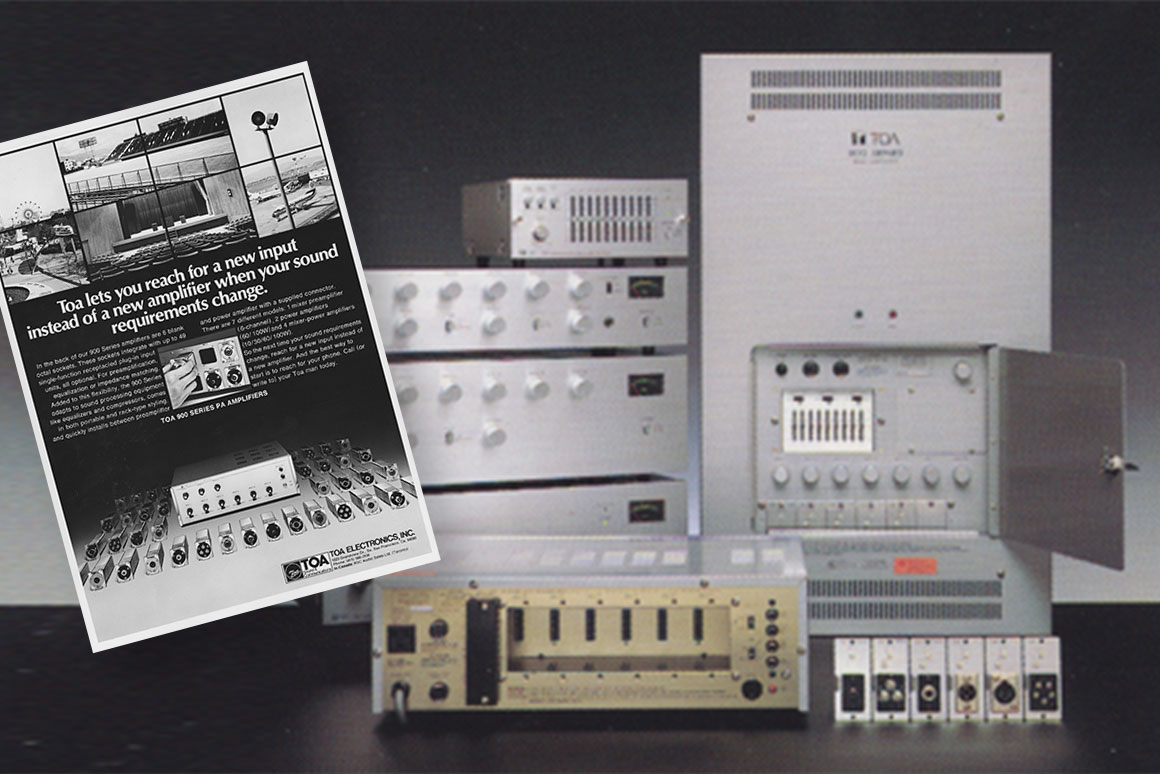 1972 | 900 Series - Something Different
Behind the scenes of the development of the "900 Series," as told by one of its development engineers
"At the time, we were renting an apartment in San Francisco, and spent many months conducting market surveys. As a result, we decided that we should start planning a new product, and visited every company we could find that was related to acoustic sound, thoroughly discussing all possibilities until we could arrive at some concrete concepts. American market welcomes products having a special feature that differentiates them from all the rest. After making extensive efforts to find that "something," we came up with the concept of modular construction. Our development theme at the time was "Something Different."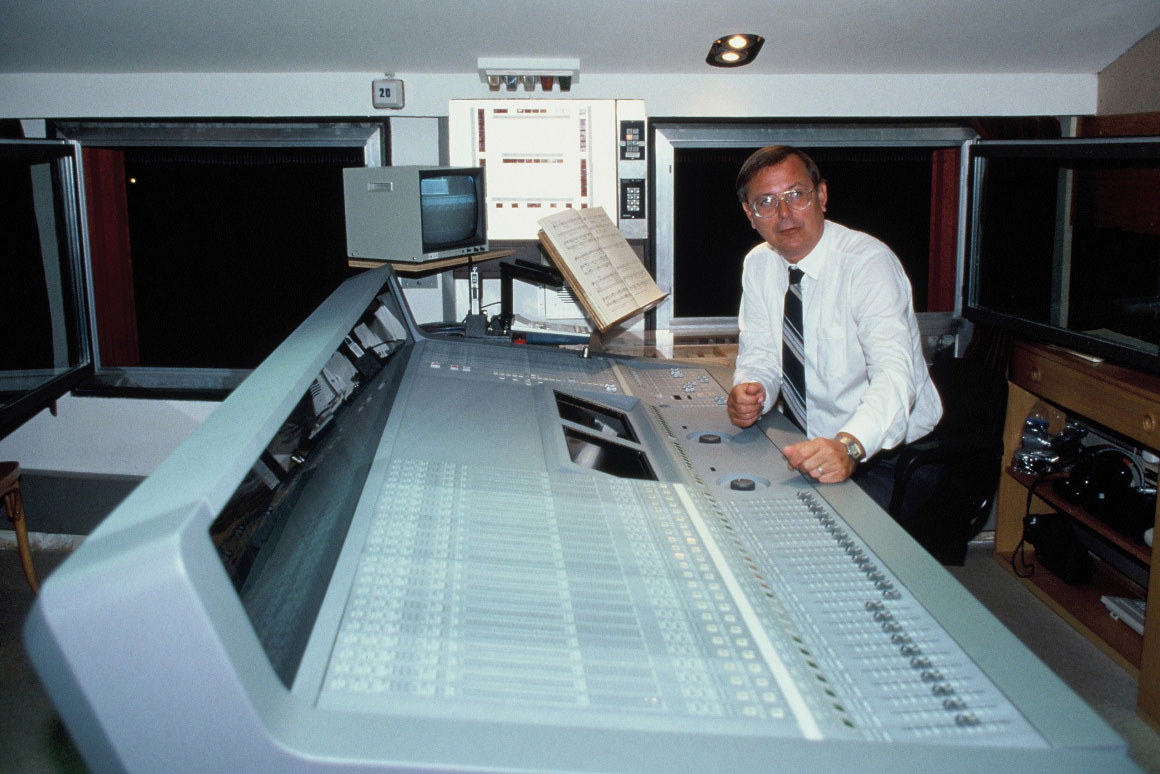 1990 | Fully Digital Mixing System for Vienna National Opera Theater
Despite the fact that the development of our Fully Digital Mixer was to be the first of its kind in the world, we had only a limited time frame of two and half years from the start of development till the system's final installation. We repeatedly communicated and double-checked with the tonemeister at the Vienna National Opera Theater, and eventually were able to bring the equipment to the Theater after prototype development manufacturing and developing the installation equipment.